The biotechnology company, focused on animal nutrition, seeks to internationalize after four years of operation, according to its CEO, Mauricio Agudelo.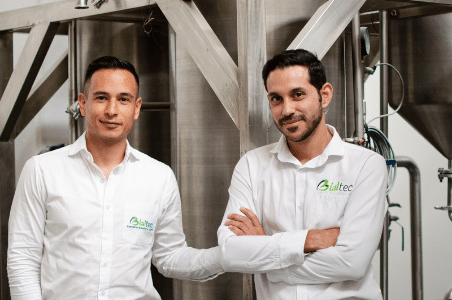 Con una oficina en  Países Bajos, la empresa Bialtec, startup de biotecnología especializada en nutrición aWith an office in The Netherlands, the company Bialtec, a biotechnology startup specialized in animal nutrition through precision microencapsulated feed additives, will seek to position itself in Europe.
This is how its CEO Mauricio Agudelo announces it, explaining that internationalization is the company's objective for this year, after four years of positioning in the Colombian market.
"We are in the process of certifications and validations and this raises us to a global level because in Europe there are the main multinationals that also produce feed additives," he says, while explaining that it is also on the agenda to venture into Mexico, Brazil and Chile.
The company was born in 2018 with two objectives. The first, to achieve efficiency in animal protein by using less feed and obtaining more meat, and second, to produce more animal protein without antibiotic growth promoters, in order to achieve healthier meat that benefits the final consumer.
In 2019, the company achieved sales of more than US$130.000 and last year it reached US$395.000. For this year the income goal is US$1 million.
Its product portfolio is aimed at livestock production (livestock, poultry, swine and aquaculture) and companion animals (dogs, cats and horses).
Explaining the concept of precision nutrition, he points out that each animal species has already had its nutritional needs defined. "Technologies such as artificial intelligence, nanotechnology and DNA sequencing have made it possible to understand more and more what are the specific nutrients that allow these animals to be more efficient in terms of health and productivity and that is the concept", he points out.
This way, it is possible to dose what the animal requires the most, minimizing waste because there are records that a lot of food is wasted. For example, a pig needs to eat 2.1 kg (4.6 pounds) of cereals to produce 1 kg (2.2 pounds) of meat. For the expert, it is a rate that must be improved in Colombia, although this data is favorable. There are places where it can reach 2.8 kg (6.17 pounds).
Bialtec works on modifying ingredients within the diet to maximize absorption, he explained.
"Our research work and our products are also focused on reducing greenhouse gas emissions because as we work with precision nutrition we are more efficient when it comes to absorbing nutrients," Agudelo said.
Bialtec's achievements led to it being recognized last year as one of the most innovative companies in Colombia by the National Association of Colombian Entrepreneurs (ANDI – Due to its initials in spanish). It markets its microencapsulated precision feed additives (mainly probiotics and prebiotics, ingredients with specific functionalities) – a patented process – under the Fortcell Feed brand.
Its clients are mainly producers that produce compound animal feed, prepare the animals' diet and add these products to their formulas.
Original article published on February 7, 2022 in: https://www.portafolio.co/negocios/empresas/entrar-a-europa-el-siguiente-paso-en-expansion-de-bialtec-561483